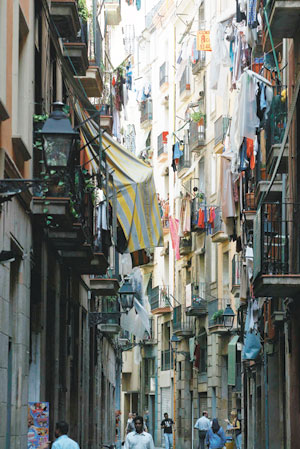 The Raval neighbourhood was historically the slum of the ancient Barcelona. However, it has become the most fashionable area in the city. Lots of bohemian and cool bars and clubs now fill its alleyways. If you are into new tendencies, the Barcelona Raval is your quarter! But it is still a good idea to take care with your wallet and backpack at night. It has a unique personality that makes it special. Although it is an exciting area in the city, it also has its darker side.
The Raval neighbourhood represents a refreshing and authentic area of Barcelona. It used to be the famous Barcelona's red-light district. The government started an urban regeneration project for the Olympics to clean up the area and becomes it safer. But there are still some unsafe areas, where drugs, theft and prostitution continue. However, it is a vibrant, lively and multicultural quarter!
It enjoys has a multitude of fashionable and ethnic restaurants, pubs, clubs and bars and a wide variety of art studios, galleries, such as the famous MACBA (museum of modern art) and CCCB (an exhibition centre). There are lot of shops, and unique boutiques that you'll find only in the area. Here you'll find the small privately owned shops!
Discover the Rambla del Raval. This is a new space gained to the neighbourhood. This is a lovely avenue, dominated by Arab people. Hence, this quarter is also known as the Little Islamabad or as Ravalkistan. In this quarter there live foreign families, especially from Morocco, Pakistan, India, Bangla Desh and South America...
The Marsella bar is a mandatory stop (Sant Pau street). First it was a distinguished coffee for high class Gentlemen, but eventually it became the central point of the singles scene. Another treasures in the Sant Pau Street are the beautiful modernist decorations of the Hotel Spain lounges, designed by Domenech i Muntaner.
The Raval neighbourhood is a fascinating quarter. Discover it wondering through its small narrowstreets, or as they used to say in Barcelona, "ravaleando". Rent
Barcelona Apartments
for the best stay in the city.