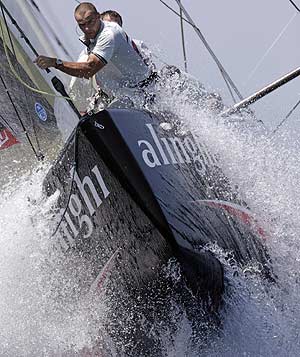 Valencia will host once again, for the second consecutive year, the America's Cup. The America's sailing Cup is the oldest sailing competition in the world and the third most watched sport event on the planet, after the World Cup and the Olympics. This year it will celebrate its 33rd edition in the Mediterranean waters.
The America's Cup celebration dates back to 1851. It was created during the Great Universal Exhibition in London. Then the winner received a silver trophy designed by Robert Garrard (the royal family jeweller), valued at 100 gold guineas. That's why it is also known as "the 100 Guineas Cup".
After months doubting about where to hold this year's race, Ernesto Bertarelli (skipper and owner of Alinghi, the winning team of the past edition) met with Zapatero to sign an agreement of 110 million euros. This money will be divided among the three America's Cup Management administrations, the company who is organizing the races. Every year, the previous winning team decides which will be the headquarters of the next competition.
Following the huge public success that the event enjoyed and the flawless image that it left behind last year in Valencia, the Government has invested more money for the competition. With this invested money, they will lengthen the maritime walkway, construct new docks for the Bertarelli America's Cup and remove and repair some buildings to improve the area's image.
This year will hold two different events, one in June and the other in July, to make them coincide with the suitable wind conditions. In April the Rolex Cup will begin, the new sponsor of these playoffs. There, all the candidates will face Alinghi (the Swiss team).
This edition tries to make the yacht races longer than the past year. With this in mind, they will use just one leg per day, instead of two, as has happened in the past.
The first title defence was in 1870. The Americans remained invincible until 1983, when they were defeated by Australia II, the Royal Perth Yacht Club. But it took only one year for the Americans to regain the title, until in 1995 the New Zealand Team beat them again. But in 2003 the Alinghi Team (the Geneva Nautical Society) got the victory. It was the first winning team without access to the sea, so they chose Valencia as their headquarters to defend their title. As Switzerland won again, they chose for the second time Valencia as the 2009 America's Cup headquarters.
Don't miss one of the major sporting events in the world. Rent
Valencia Apartments
to feel as if you were at home. You'll have a great time there!