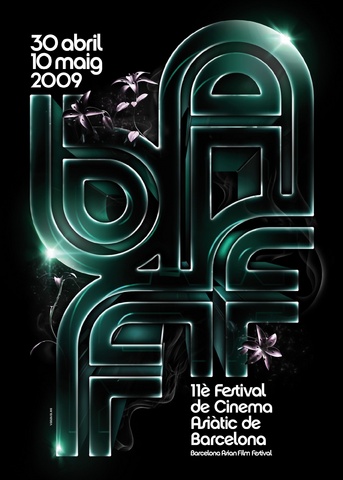 Once again, Barcelona hosts one of the most interesting cinematographic festivals of the current panorama, the Asian Film Festival of Barcelona - BAFF 2009. From April 30th to May 10th, the city will witness the largest showcase of Asian cinema in Spain. The event, directed by Carlos R. Ríos and Amaia Torrecilla and organized by 100,000 retinas, celebrates its eleventh edition with more acceptance than ever and looks to Japan as the new Asian cinema promise.
This year the festival presents many innovations: for the first time the NETPAC prize will be granted to the best Asian movie presented in other festivals such as Venice, Cannes, Rótterdam or Berlin. A new section will be created for the novice directors - who are the future promises of Asian cinema, and their works and the "Guest Country" has been removed to promote new sections that will focus on all cities, directors and film themes.
The awards will be divided into the following sections: the Durián de Oro Award for the best film, which is given by Asia House with a prize of 6,000 euros to the director whose filmography does not exceed three movies; the D-Cinema Award, for the best movie made in this format; and the Cinematk Award, that will distribute throughout Spain the awarded film and its exclusive showing on the Cinematk TV channel.
This year 14 films will participate in the official section. The movies come from countries such as Thailand, Taiwan, Indonesia, Japan, South Korea, Malaysia and China / Hong Kong, among others. Standing out is the participation of a great number of new directors, but also some consolidated ones such as Naomi Kawase, who presents her latest film. Furthermore, BAFF is honoured to present in Spain the Oscar winning film Departures, of Takito Yojiro. Other important titles are "Ocean Flame", "Blind pig who wants to fly" by Junji Sakamoto "Chameleon" by Kim Ki-duk ("Dream"), Takeshi Kitano ("Achilles and the Tortoise"). Among so much cutting edge work, it's hard to make a list of the best works at this festival.
These are the official spaces for the festival: CCCB, the Aribau Club Cinema, the Caja Madrid Cultural Centre and the Rex Cinema. The tickets, which can be purchased in advance via telentrada.com and servicaixa.com, cost 6 Euros per individual session, or 25 Euros for 5 sessions, and 45 Euros for 10 sessions.
The BAFF festival has helped Asian movies to gain greater appreciation and shake off its "cult cine" tag. In the past ten years, the festival has discovered great talents who are today's heavyweights of the contemporary film scene. Rent your
Apartments in Barcelona
now and enjoy the best Asian cinema in the city.